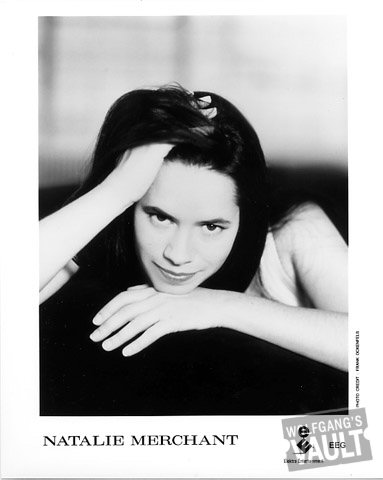 Natalie Merchant - Debuts Her New Album with an Extensive World Tour!
---
Natalie Merchant, formerly of 10,000 Maniacs quintessential 'Bohemian' folk style alternative band which attracted tremendous popular following in the eighties, has evolved into a world renowned solo artist with a string of hits including 'Kind & Generous', 'Carnival' and 'Wonder'. 
LEAVE YOUR SLEEP RELEASE
Leave Your Sleep, the double album released worldwide on April 13th by Nonesuch Records.

To mark the occasion, Merchant performed a series of release parties-concerts in several major American cities at venues with cultural significance (The Society for Ethical Culture in New York, The Getty Center in Los Angeles, The Chicago Institute of Art, etc.).  Merchant offered a multi-media presentation including portraits of the poets and samples of their books to help introduce the audience to the source of the album's content, 19th and 20th century American and British poets and their poems.
Click HERE for Natalie Merchant official fan club
---
UPCOMING SHOWS FOR NATALIE MERCHANT TOUR
 
Date

 

City/State

 

Venue

 

On Sale
May 05/10/10

 

Brussels, Belgium

 

AB

 

Mar 03/02/10

 

May 05/11/10

 

Amsterdam, Holland

 

Paradiso

 

Mar 03/06/10

 

May 05/12/10

 

Cologne, Germany

 

Kulturekirche

 

Mar 03/02/10

 

May 05/14/10

 

Hamburg, Germany

 

Uebel and Gefahrlich

 

Mar 03/02/10

 

May 05/15/10

 

Berlin, Germany

 

Admiralspalast Studio

 

Mar 03/02/10

 

May 05/17/10

 

Munich, Germany

 

Freiheizhalle

 

Mar 03/02/10

 

May 05/18/10

 

Zurich, Switzerland

 

X-tra

 

Apr 04/07/10

 

May 05/20/10

 

Paris, France

 

Alhambra

 

Mar 03/03/10

 

May 05/22/10

 

London, UK

 

London HMV Hammersmith Apollo

 

Feb 02/22/10

 

May 05/24/10

 

Salford, Manchester

 

Manchester Lowry

 

Feb 02/22/10

 

May 05/25/10

 

Gateshead, UK

 

Gateshead Sage

 

Feb 02/22/10

 

May 05/26/10

 

Edinburgh, Scotland

 

Edinburgh Usher Hall

 

Feb 02/22/10

 

May 05/28/10

 

Birmingham, UK

 

Birmingham Symphony Hall

 

Feb 02/22/10

 

May 05/29/10

 

Bristol, UK

 

Bristol Colston Hall

 

Feb 02/22/10

 

May 05/30/10

 

Brighton, UK

 

Brighton Dome

 

Feb 02/22/10

 

Jun 06/01/10

 

Dublin, Ireland

 

The Helix - Mahony Hall

 

Apr 04/09/10

 

Jul 07/12/10

 

Montclair, NJ

 

The Wellmont Theatre

 

May 05/14/10

 

Jul 07/13/10

 

Northampton, MA

 

The Calvin Theatre

 

May 05/07/10

 

Jul 07/15/10

 

New York, NY

 

The Town Hall

 

May 05/07/10

 

Jul 07/16/10

 

New York, NY

 

The Town Hall

 

May 05/07/10

 

Jul 07/18/10

 

Bethesda, MD

 

Music Center at Strathmore

 

May 05/14/10

 

Jul 07/19/10

 

Boston, MA

 

Wang Center

 

May 05/07/10

 

Jul 07/20/10

 

Philadelphia, PA

 

Merriam Theater

 

May 05/07/10

 

Jul 07/22/10

 

Chicago, IL

 

Chicago Theatre

 

May 05/08/10

 

Jul 07/23/10

 

Milwaukee, WI

 

Riverside Theater

 

May 05/07/10

 

Jul 07/24/10

 

St. Paul, MN

 

O'Shaughnessy Auditorium

 

May 05/07/10

 

Jul 07/26/10

 

Grand Rapids, MI

 

Meijer Gardens

 

May 05/15/10

 

Jul 07/27/10

 

Ann Arbor, MI

 

Michigan Theater

 

May 05/07/10

 

Aug 08/03/10

 

Denver, CO

 

Ellie Caulkins Opera House

 

May 05/07/10

 

Aug 08/04/10

 

Salt Lake City, UT

 

Red Butte Garden

 

May 05/03/10

 

Aug 08/06/10

 

Woodinville

 

Chateau Ste. Michelle

 

Apr 04/24/10

 

Aug 08/07/10

 

Goldendale, WA

 

Maryhill Winery

 

Apr 04/24/10

 

Aug 08/09/10

 

Saratoga, CA

 

The Mountain Winery

 

Apr 04/26/10

 

Aug 08/10/10

 

Santa Rosa, CA

 

Wells Fargo Center for the Arts

 

May 05/07/10

 

Aug 08/11/10

 

Oakland, CA

 

Fox Theater

 

May 05/09/10

 

Aug 08/13/10

 

Los Angeles, CA

 

Orpheum Theatre

 

May 05/08/10

 

Aug 08/14/10

 

San Diego, CA

 

The Spreckels Theatre

 

May 05/07/10

 

Aug 08/17/10

 

Phoenix, AZ

 

Dodge Theatre

 

May 05/08/10

 

Aug 08/19/10

 

Dallas, TX

 

AT&T Performing Arts Center

 

May 05/08/10

 

Aug 08/20/10

 

Austin, TX

 

Paramount Theatre

 

May 05/20/10

 

Aug 08/21/10

 

Houston, TX

 

Verizon Wireless Theatre

 

May 05/07/10

 

Aug 08/24/10

 

Clearwater, FL

 

Ruth Eckerd Hall

 

May 05/07/10

 

Aug 08/25/10

 

Ft. Lauderdale, FL

 

Broward Center for the Performing Arts

 

May 05/21/10

 

Aug 08/27/10

 

Atlanta, GA

 

Cobb Energy Performing Arts Centre

 

May 05/14/10

 

Aug 08/28/10

 

Nashville, TN

 

Ryman Auditorium

 

May 05/28/10

 

Aug 08/30/10

 

Durham, NC

 

Durham PAC

 

May 05/21/10

 

Aug 08/31/10

 

Knoxville, TN, NC

 

Tennessee Theatre

 

May 05/21/10

 

Sep 09/01/10

 

Greenville, SC

 

Peace Center

 

May 05/21/10

 
---
 Prior Presale

 Cobb Energy Performing Arts Centre - Atlanta, GA
Fri, Aug 27, 2010 08:00 PM - Password:  DAVE